1200 calories is often a start point for many people (especially women) when it comes to trying to lose weight. While seemingly becoming more well known in recent years, the concept of a 1200-calorie diet goes back some way. The late American author Lulu Hunt Peters is widely considered to be one of the pioneers of losing weight through calorie counting. Peters published the book Diet and Health: With Key to the Calories all the way back in 1918, which became a best seller with over 2 million copies sold, which, in a time without social media and Amazon, is quite an achievement.
Peters' book recommended a 1200-calorie intake for those wishing to lose weight, and her book provided some quite brilliant stickman diagrams and descriptions of how to perform exercises to go alongside your new dietary regimen. So, over 100 years later, the 1200-calorie diet concept remains a popular one. But should it be?
You're here because you want to know the answer to the question of "will I lose weight eating 1200 calories a day?"
Well, let's find out.
Does Calorie Counting Work for Weight Loss?
Calorie counting itself is not what causes weight loss. Being in a calorie deficit is what results in weight loss, with calorie counting being an effective tool to help you do that.
A calorie deficit is where you are consuming less calories than your body is using. You are essentially depriving your body of energy which it needs to survive. When you do so, your body will look inwards for that energy, hence why stored energy, such as fat and glycogen, are broken down and used to fuel the many vital, life-sustaining processes of the body such as our heart beating, and lungs breathing.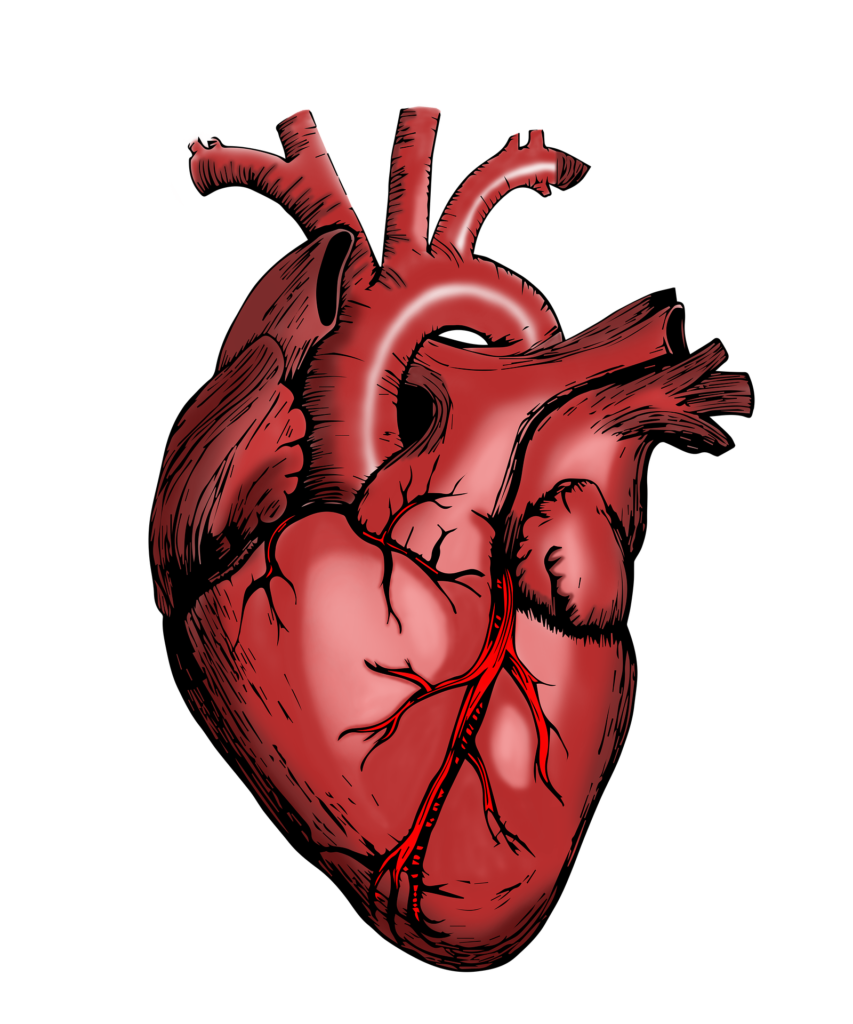 Think about a bank account that contains £100. If every day, £10 is spent and only £5 was put in, each day, the bank balance would be £5 less than the day before. That is a very simple example of how weight loss works. You might spend 2500 calories each day, but if you only put 2000 calories in (through food and drink), then over time your weight will reduce as your body still needs that extra 500 calories of energy, regardless of whether you provide it through food/drink or if it has to break down stored energy.
Now, I use the word "tool" above very purposefully when describing calorie counting. Weight loss can be achieved by following many of the wild and wonderful diets that are out there these days (emphasis on the "wild"), assuming that whatever they entail, results in you being in a calorie deficit. Whether you're on a keto, vegan, low carb, high carb, high fat, high protein or cabbage soup diet (God help anybody who ever did this by the way, I can't even imagine the smell!), if you're in a calorie deficit, you will lose weight.
As such, calorie counting can be considered a tool to help you achieve weight loss by allowing you to, with a relatively decent amount of accuracy, achieve a calorie deficit. However, there are certainly a few "buts".
Calorie counting is only as effective as the person doing the calorie counting and their ability to track their intake accurately. Put simply, if someone decides to use calorie counting as a means of losing weight, but doesn't track their intake accurately, then its effectiveness lessens. Someone who, when counting calories, records all of their dietary intake vs someone who only tracks, for example, their main meals and nothing in between, is likely to see better progress with their weight loss for a couple of reasons:
You're going to have a much better idea of how many calories you're consuming daily and weekly. This will allow you to make much more informed adjustments moving forward. If you're tracking your intake accurately and your weight stays the same over a week or two, you can then make adjustments based on this. You might, for example, be aiming for 2200 calories per day. If you track your intake accurately and consuming 2200 calories per day has resulted in your weight staying the same for a couple of weeks, you can confidently assume that 2200 calories per day may just be a bit too high to induce weight loss, and you can adjust your calorie target accordingly.
You can make appropriate dietary adjustments quicker vs guessing. Being fully informed of your calorie intake on a daily and weekly basis as well as taking weekly weights, will allow you to make more accurate adjustments sooner. Instead of only partially tracking your intake and having to guess where you might be going a bit wrong when your weight isn't going down, tracking your intake accurately will help guide you moving forward with much more clarity.
Will I lose weight eating 1200 calories a day?
Unless you're a very young child (~3-4 years old), consuming 1200 calories per day is extremely likely to place you in a calorie deficit. In the UK, the British Nutrition Foundation (2021) provide these estimations for estimated calorie requirements for moderately active adults:

As such, you can clearly see how eating 1200 calories a day, whether you're male or female, would result in a significant calorie deficit.
However, what's really important to note is that this is based on those who are a healthy weight and are moderately active. In those who have excess weight or have obesity, these numbers are going to be different. All living cells require energy to function, and as such, the more cells we have (or fat tissue), then the greater our body's energy needs are going to be (Alberts, et al, 2002).
We can use websites such as TDEEcalculator.net to get an estimation of our Total Daily Energy Expenditure (TDEE).
Let me give you an example of an 18 stone (around 252lb), 40-year-old, 5ft 9in male: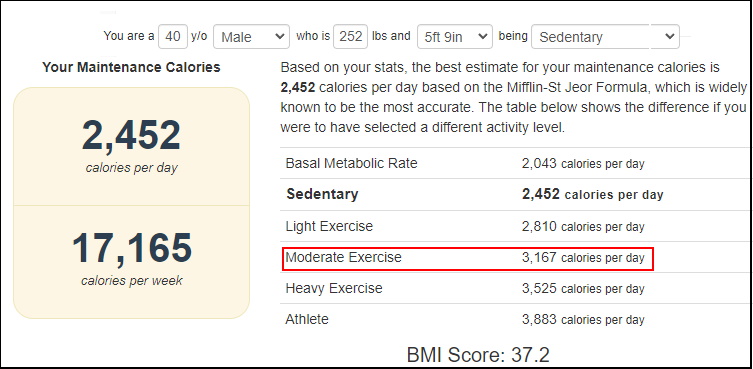 As you can see, the estimated calories per day for an obese, sedentary male weighing 18st / 252lb is around 2452. If this same person was engaging in moderate exercise, their estimated calories per day goes up to around 3167, a significant increase compared to that of someone of a healthy weight (2629 calories).
Now an example of a 220lb (15st, 10lb), 40-year-old, 5ft 6in female: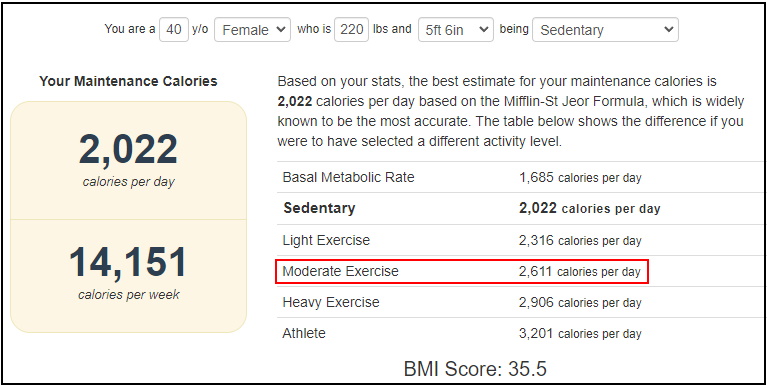 Again, we can see that this person, if engaging in moderate exercise, would require around 2611 calories per day, compared to around 2103 calories if they were a healthy weight.
The lose weight/gain weight cycle
Using the above example, it's quite easy to see how, if either of those people dropped their calorie intake to 1200 calories per day, they would be in quite substantial calorie deficits. The male's calorie deficit would be an estimated 1976 calories, with the female's calorie deficit being an estimated 1411.
Well, if you need a calorie deficit to lose weight, the bigger the deficit the better, right?!
Not quite. Bigger isn't always better.
One of the main factors that determine someone's success when trying to lose weight is whether what they're doing is sustainable. In simple, if someone can't sustain whatever dietary/lifestyle changes they're trying to make, their weight loss success will suffer. Research has found adherence during weight loss is a strong predictor of whether someone is likely to regain the weight they've lost, which simply means that the more someone 'sticks' to their diet throughout, the less likely they are to regain the weight afterwards (Del Corral, Bryan, Garvey, Gower & Hunter, 2011). This further emphasises the importance of whatever we're doing to lose weight, needing to be sustainable.
An extremely common thing in the world of weight loss is the lose weight/gain weight cycle, which I'm sure, if you've ever tried losing weight, you will be very familiar with.
It might go like this…
You're fired up and ready to lose weight, this is the time it's going to work for you, you can feel it. You're sick and tired of the way things are and you're prepared to do whatever it takes!
You pick one of the many "diets" out there and are convinced it's going to work. Or you may even choose a 1200-calorie diet alongside a bit of exercise (or maybe a lot).
The first few days are okay, you think to yourself "Yup, this is it, this is the one that's going to work for me!" You probably lose 4-5+lbs in the first week, which further convinces you this is going to be amazing.
Soon after, you start to feel tired and oh so hungry. The weight loss slows down, it might be 2lb the next week.
Motivation starts to dwindle and you start questioning whether you can keep this up.
Shortly after (if you manage to make it that long), you find that all you can think about is wolfing down all of the foods you've been denying yourself.
You have a small slip up. Maybe you've had a few sweets, crisps or biscuits that you've been cutting out recently. You think "oh, what's one day?!" and you spend the rest of the day overeating the foods you've been denying yourself because you convince yourself you're going to "get back on track" tomorrow. But…
Tomorrow never comes, and you're left fiercely frustrated by the fact that you've now gained back all of the weight you worked so hard to lose because you fell off the wagon and couldn't get back on.
Sound familiar?
This might not apply to you, but it really is a very common cycle, and is often the result of someone trying to change too much, too soon and it being extremely unsustainable.
I don't know about you, but some of my meals could easily exceed 1200 calories, and the thought of trying to last a whole day, never mind several weeks or months on as little as 1200 calories a day does not sound like an even remotely appealing prospect.
Lose Weight by Eating as Much as Possible
Something I often say to people, which at first seems like an odd thing to hear, is that we want to try and lose weight, but by eating as much as possible. An example of what I mean by this is, if someone's daily calorie needs are around 2500. If they're able to lose weight (around 1-2lb per week) by eating 2200 calories per day, then they absolutely do not need to drop their calories down to 1200 per day. Hell, if they could eat more than 2200 and still lose weight, great!
This achieves a couple of things, which can help you improve your chances of weight loss success:
You're likely to be less hungry. Assuming your diet is relatively healthy and balanced, you're likely to be much less hungry consuming 2200 calories per day vs 1200 calories. Hunger is one of the biggest obstacles in weight loss, if we're always hungry, it's going to be very difficult to sustain our attempts at weight loss.
You have more room to include the foods you love. No, losing weight doesn't have to be porridge for breakfast, salad for lunch and salad for dinner, while slipping in the odd piece of fruit. While eating more nutritious foods will have a positive impact on your hunger levels, as long as you're in a calorie deficit, you will lose weight. Therefore, upping your daily calorie intake (as long as you remain in a deficit), allows you the flexibility to include some of the less nutritious foods.
You have much more room to reduce your calories over time. After a few weeks or months your weight loss progress is likely to start to slow down and you may find you've gone from losing 1-2lb per week down to maybe 1/2 a lb per week. Or maybe your weight is staying the same. If this is the case and your calorie intake is relatively high, then you have much more wiggle room to bring that down a bit to then hopefully help you continue to lose weight. If you start with your calorie intake at 1200 per day, where do you go from there if your weight loss slows down? Less than 1200 calories per day?! I don't think so. Your dietary intake would be very low at such a low calorie figure.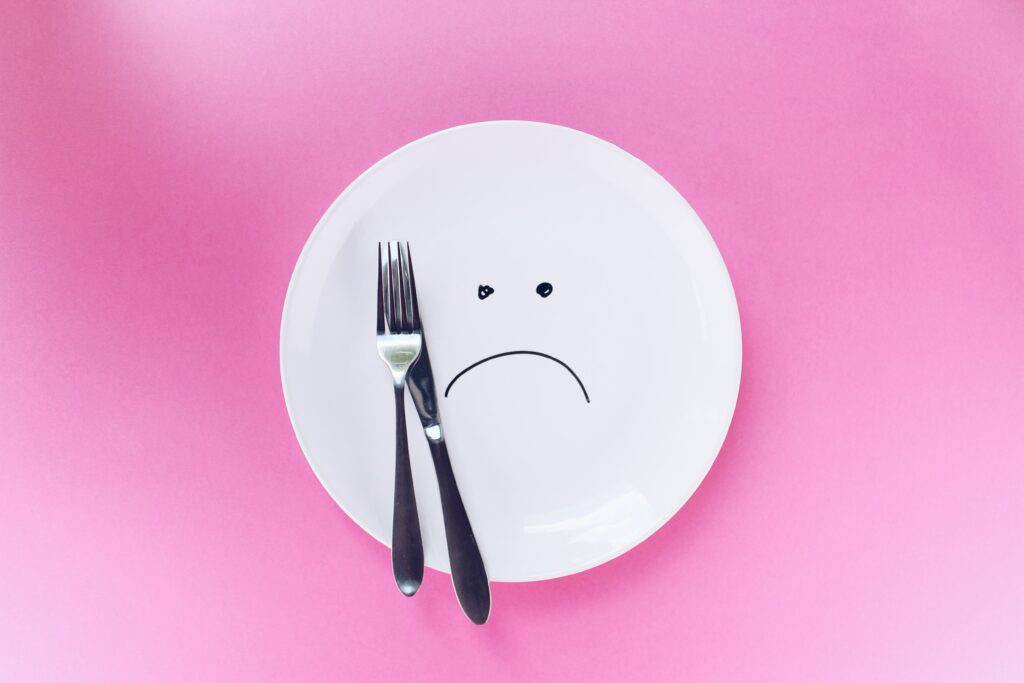 Summary
So, to answer the question of "will I lose weight eating 1200 calories a day?", the answer is probably, yes. However, as discussed, unless you're a 3-4 year old child, your daily calorie requirements are going to be much greater than 1200 calories a day. As such, consuming that many calories a day is very likely to place you in a significant calorie deficit, which will result in weight loss.
While dropping your calorie intake to 1200 per day is going to result in weight loss, it probably isn't the best idea, as you're likely to have a hell of a tough time maintaining that for any significant period of time, with the likely outcome being rapid weight regain. Instead, you're more likely to be better off trying to lose weight by eating as much as possible, meaning if you need 2000 calories per day and can lose weight eating 1700 calories per day (or more), then that's more likely to be more sustainable due to less hunger, and the flexibility to include more pleasurable foods. The key is trial and error. Try something, if it doesn't work, adjust and reassess.
Questions/comments
I hope you found that useful and informative! And if you have any questions or comments, I'd love to hear them. Please feel free to throw some comments in the comment box below.
Rob
References
Alberts B, Johnson A, Lewis J, et al. Molecular Biology of the Cell. 4th edition. New York: Garland Science; 2002. How Cells Obtain Energy from Food. Available from: https://www.ncbi.nlm.nih.gov/books/NBK26882/
British Nutrition Foundation. (2021). Nutrition Requirements. Retrieved from https://www.nutrition.org.uk/media/nmmewdug/nutrition-requirements.pdf
Del Corral, P., Bryan, D. R., Garvey, W. T., Gower, B. A., & Hunter, G. R. (2011). Dietary adherence during weight loss predicts weight regain. Obesity (Silver Spring, Md.), 19(6), 1177–1181. https://doi.org/10.1038/oby.2010.298
Faizan U, Rouster AS. Nutrition and Hydration Requirements In Children and Adults. [Updated 2021 Sep 2]. In: StatPearls [Internet]. Treasure Island (FL): StatPearls Publishing; 2022 Jan-. Available from: https://www.ncbi.nlm.nih.gov/books/NBK562207/