From a humble beer, to a fancy cocktail, I'm sure many of us can agree that few things complement a meal or social event like a good old alcoholic beverage. Interestingly, the act of having an alcoholic drink before or with meals to stimulate our appetite has been going on for quite some time. In fact, the French phrase "apéritif", defined as an alcoholic beverage served before a meal to stimulate the appetite, has been around since at least the 5th century (St Diadochos of Photiki, c. 400 – 486).
This lends itself nicely to the question of "why does alcohol make you hungry?" Because I'm sure we've all been there, had a few beers or wines, and all of a sudden we find ourselves morphing into a human-sized magnet being drawn towards the nearest kebab or takeaway, and is exactly why these places stay open till 3am.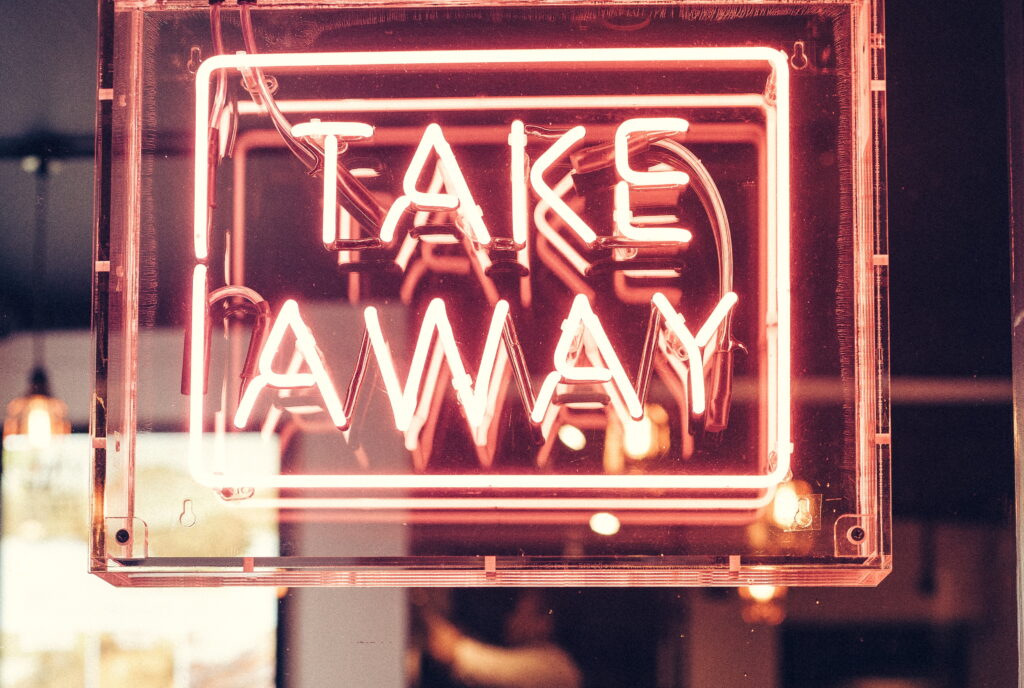 First off, what even is hunger?
"What a stupid question, it's obviously that feeling I get in my stomach where my body is telling me to eat!" Yes, of course, but (if you're interested), let's delve a little bit deeper and very briefly discuss what hunger actually is.
There's one hormone that plays a significant role in us developing those feelings of hunger, and that's the funky-sounding hormone, ghrelin (pronounced "grellin"). Ghrelin is formally known as an orexigenic hormone (orexigenic meaning it has a stimulatory effect on the appetite – in even simpler terms, it makes us hungry and motivates us to seek food).
When our stomach is empty, we release ghrelin. This hormone communicates with our brain to tell it "hey, if you want to survive you best get some food down here!" This communication with our brain triggers a few things, such as an increase in our appetite, food intake, and fat storage (among other things too) (Young & Jialal, 2022). This release of ghrelin is what leads to that feeling of hunger, and the amount of ghrelin we release rises and peaks before meal times, and is suppressed following the consumption of food, hence why we progress from "hm, I could eat", to hangry and willing to cause harm to anyone who gets in the way of you and your next meal. Hunger is quite the motivator.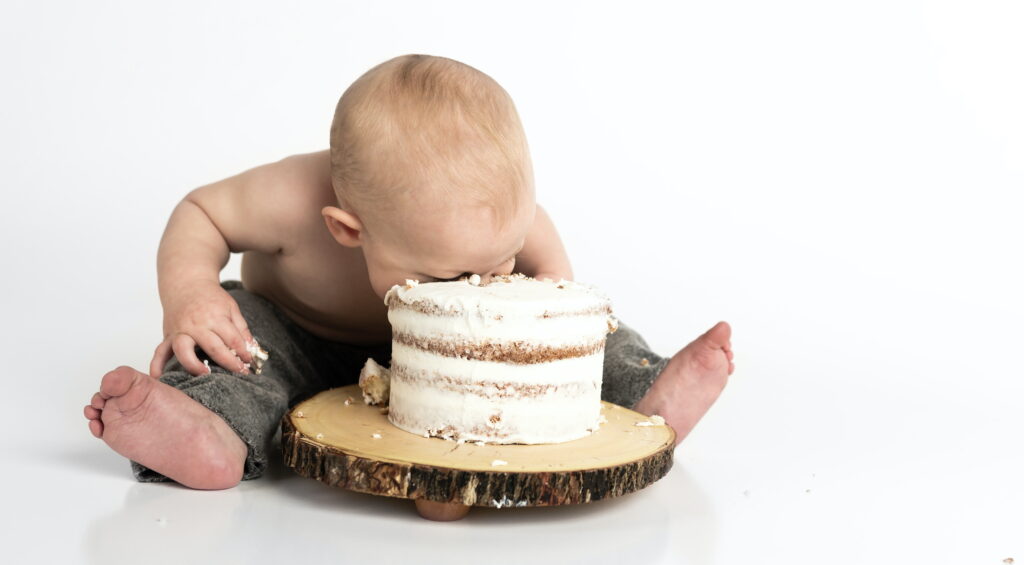 Ghrelin levels fall following mealtimes with levels of leptin, a hormone that has some opposite effects to ghrelin, increasing. Leptin has the opposite effect of ghrelin from a hunger point of view and works to suppress our appetite and reduce food intake (Klok, Jakobsdottir & Drent, 2006).
So in simple, ghrelin levels rise when our stomach is empty and we're due a meal, and leads us to feeling hungrier and hungrier. We become very motivated to find food and eat, then ghrelin levels go down along with leptin levels increasing, resulting in our appetite being reduced and our food intake ultimately coming to a halt (well, in most cases. Eating beyond the point of fullness and ignoring those feelings of fullness is a very different thing).
What is actually happening to make us feel hungrier after consuming alcohol?
The actual mechanism behind what is really happening isn't fully known, but there are some theories. One of the theories currently includes alcohol's ability to have an effect on opioid receptors in our brain. Stimulation of opioid receptors result in feelings of pleasure, and this stimulation of opioid receptors has a profound effect on the feelings of pleasure (hedonism) we get when eating. As such, consuming some alcohol prior to a meal will stimulate opioid receptors, which simply brings us more pleasurable feelings when eating food (Yeomans & Gray, 2002).
Another fairly complex theory is that alcohol is able to stimulate certain neurons (the information messengers of the body) known as the AgRP (agouti-related peptide) neurons that ultimately lead to us wanting to eat (Cairns, Blomeley, Kollo, Racz & Burdakov, 2017). However, other research has found that alcohol doesn't stimulate AgRP neurons and in fact inhibits their activity (Alhadeff et al, 2019), so the jury is still out on that one!
An additional but simpler theory is that, following the consumption of alcohol, our inhibitions are lowered and we're just much more likely to make poorer decisions.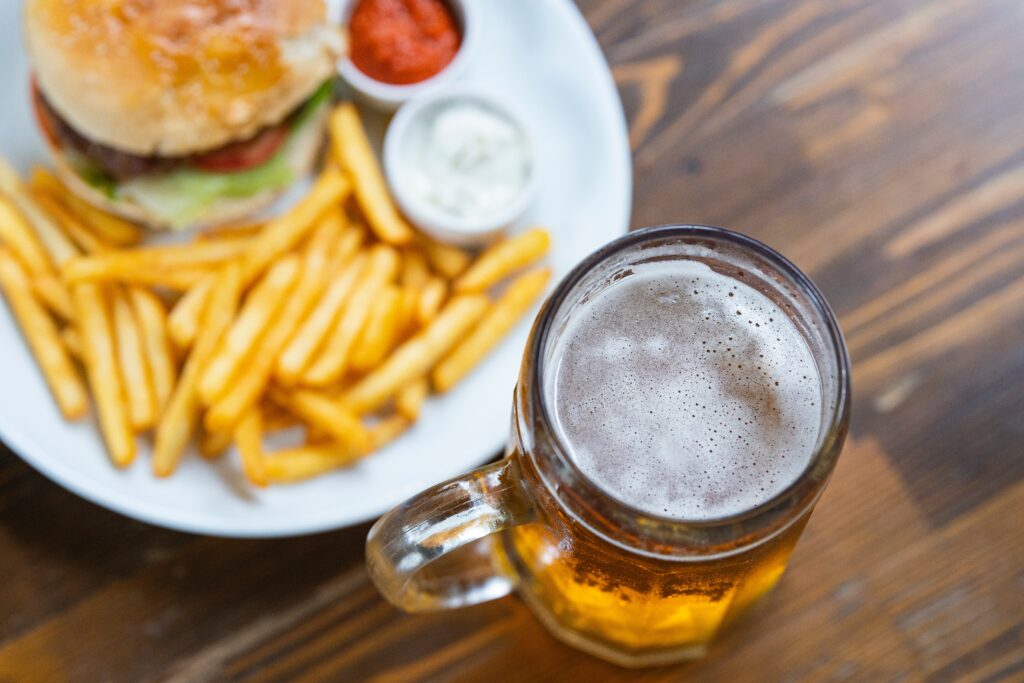 There's nothing quite like that feeling of that first bite of some not-so-nutritious food after you've had a few drinks, right?
Why does increased alcohol consumption often result in weight gain?
Simply put, alcohol itself contains calories therefore, alcoholic drinks contain calories. Alcohol contains 7 calories per gram. In the UK, the alcohol content of a drink is often displayed in "units". A unit of alcohol contains 10ml or 8g of pure alcohol (NHS UK, 2021). A pint of beer contains around 3 units of alcohol, so if you multiply 3 units of alcohol by 8g (because there's 8g of alcohol per unit), you get 24g of alcohol. If you then multiply the grams of alcohol by 7, you will get the calorie amount for the alcohol in that drink. So, for a pint of beer:
3 units X 8g of alcohol = 24g alcohol.
24g of alcohol x 7kcal per gram = 168kcal. But that's just the alcohol. You also need to consider the carbohydrates in beer too, hence why most pints of beer easily exceed 200 calories, with the same also applying to large glasses of wine. So, if you sink two or three pints of beer, you could easily consume 600-700+ calories and have nothing to show for it apart from several trips to the bathroom.
Previous research has found a significant relationship between the amount of alcohol someone consumes, and their BMI, in that higher alcohol consumption is linked with a higher BMI. In addition, greater alcohol intake is also linked to an increased risk of cardiovascular disease risk factors, such as high blood pressure (hypertension) and high blood lipids (hyperlipidaemia) (Ki-Chul, Sun & Gerald, 2007).
And just for that final nail in the coffin, research has found that we just don't compensate for calories from alcohol (Hetherington, Cameron, Wallis & Pirie, 2001). In simple, when we consume alcohol (which, of course, contains calories), we don't naturally make up for this by eating less food, in fact we tend to eat more food, and take in more calories overall when you factor in the alcohol too. So you get the increased intake from the appetite-stimulating effects of alcohol and the additional calories from alcohol. Quite the double whammy!
Can I lose weight while still consuming alcohol?
Here's some good news (finally!), YES! Ultimately, weight loss comes down to you taking in less calories than your body is using. So, while alcohol does contain calories, it's still very much a possibility to be able to have some as part of a healthy, balanced diet.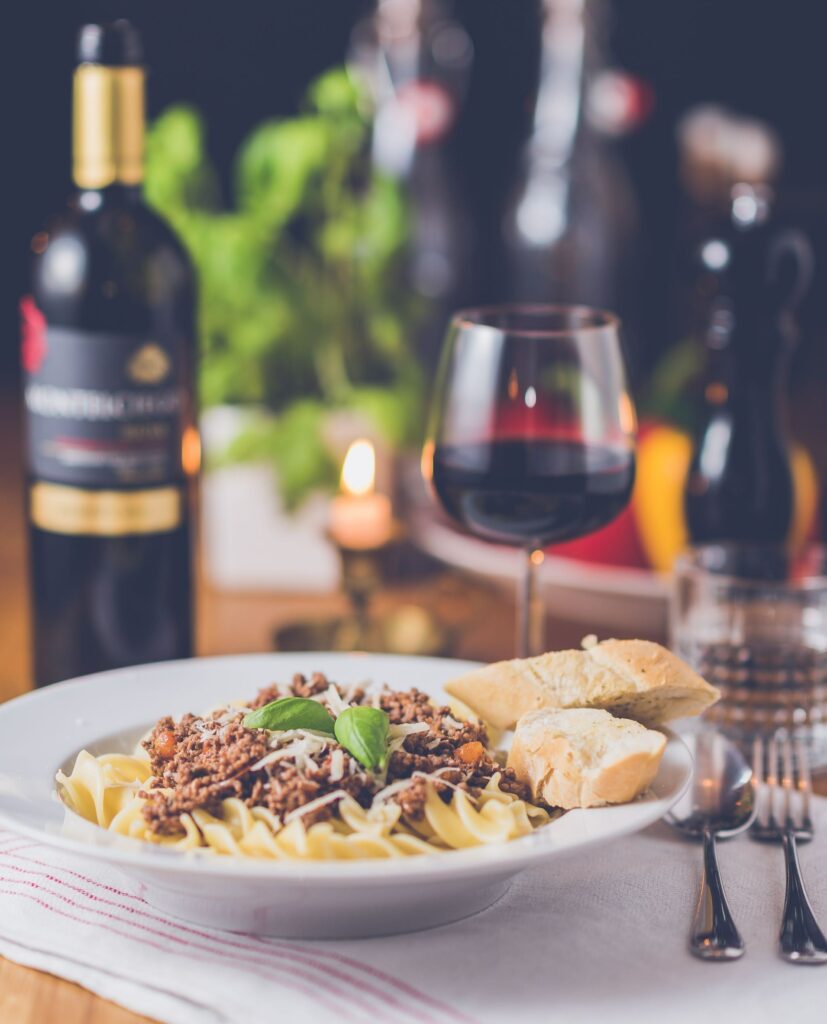 On paper, the process behind fat loss is fairly simple. Our bodies require a certain number of calories per day to carry out all of the processes it needs to for us to stay alive, such as our heart pumping, our breathing, and keeping our brain ticking over all day, every day. These are known as our maintenance calories, as they are the amount of calories we need to maintain our weight.
Now, if you eat more than your maintenance calories day after day, you will end up gaining weight due to you providing your body with excess energy. So, instead of it saying "Yeah, I'm good for today, thanks though!" and simply getting rid of the excess energy, which, from a survival point of view would be extremely wasteful, you instead store some of this additional energy. One of the ways this additional energy can be stored is, of course, as fat. This is known as a calorie surplus, as you're providing your body with energy that is surplus (or extra) to its requirements.
On the flip side, if you consume less calories than your body needs, this is known as a calorie deficit. And, as your body needs to have access to enough calories to maintain itself, if you don't give your body those calories, it will start breaking down stored energy (including fat) to provide itself with that energy, ultimately resulting in weight loss if a calorie deficit is maintained going forward.
Pretty simple, right? As I said, in theory, weight loss is simple, but in practice it really isn't. If it was, nobody would be overweight. Instead, the population is growing heavier and heavier, further emphasising the huge complexities involved in weight loss. It ain't just as simple as telling someone to "eat less, move more!" because there are so many other factors that make weight loss very difficult for many people.
So, when it comes to alcohol, if you were to consume a beer or two but still remain below your body's maintenance calories, then technically you would lose weight if this calorie deficit was maintained. As such, including alcohol in your diet while trying to lose weight is definitely doable, but can make weight loss difficult due to a couple of reasons.
These could include:
Drinking your calories – When we drink our calories, this doesn't often have much of an impact on our satiety (how full we feel), so you could easily chug down a beer, a pint of fresh orange juice or a "super duper detox 500 immortalisation smoothie" and still feel pretty hungry after that, despite having consumed several hundred calories. From a hunger point of view, eating your calories will always provide you with greater feelings of hunger when you compare the same amount of calories of food and a liquid alternative.
Its effect on your appetite and decision making – As discussed, when we drink alcohol, our inhibitions are lowered and we tend to throw caution to the wind with our dietary intake. We tend to crave the foods that are higher in sugar, salt and fat. You know, the super tasty ones? I don't know about you, but after a couple of beers, you wouldn't find me hunting down the nearest bowl of fruit.
Summary
So to answer the question of "Why does alcohol make you hungry?", well, I can't really answer that specifically. A number of factors seem to play a big role in this question, and even then, the current research still isn't truly certain on all these factors. However, what we do know is, it definitely does stimulate appetite, it definitely can lead to us making poorer nutrition-related decisions, and alcohol definitely contains calories and can contribute to weight gain and other poorer health-related outcomes.
Slight disclaimer – this isn't me encouraging the consumption of alcohol. However, if you're looking for some damage limitation options, opting for a spirit with a diet mixer is your best bet. A shot (25ml) of 40% vodka contains around 50-55kcal, which when mixed with a diet mixer, would still be around 50-55kcal, so a much lighter option if you're looking for one.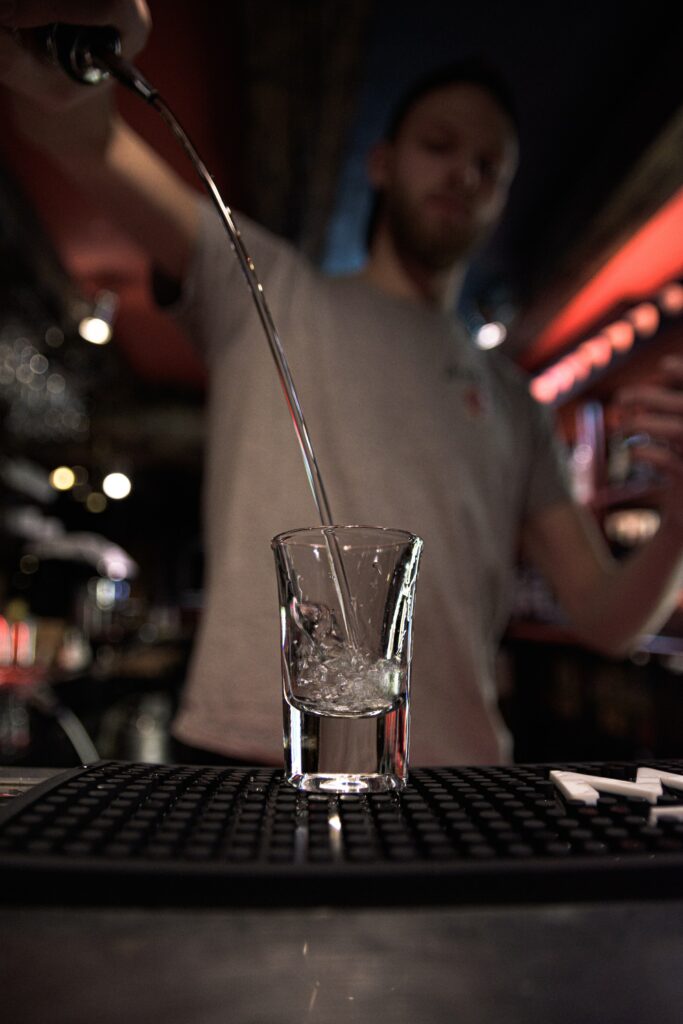 I hope this was an interesting read and you found something useful to take away from it.
I would love to hear your comments/thoughts/questions if you have any. Please feel free to leave a comment below! Now, time for a beer and some bad decisions.
Take it easy,
Rob
References
Alhadeff, A. L., Goldstein, N., Park, O., Klima, M. L., Vargas, A., & Betley, J. N. (2019). Natural and Drug Rewards Engage Distinct Pathways that Converge on Coordinated Hypothalamic and Reward Circuits. Neuron, 103(5), 891-908.e6. https://doi.org/https://doi.org/10.1016/j.neuron.2019.05.050
Cains, S., Blomeley, C., Kollo, M., Rácz, R., & Burdakov, D. (2017). Agrp neuron activity is required for alcohol-induced overeating. Nature Communications, 8(1), 14014. https://doi.org/10.1038/ncomms14014Diadochos, St. (c. 400-486) St Diadochos of Photiki. (n.p.).
Sung, K.-C., Kim, S. H., & Reaven, G. M. (2007). Relationship Among Alcohol, Body Weight, and Cardiovascular Risk Factors in 27,030 Korean Men. Diabetes Care, 30(10), 2690–2694. https://doi.org/10.2337/dc07-0315
Hetherington, M. M., Cameron, F., Wallis, D. J., & Pirie, L. M. (2001). Stimulation of appetite by alcohol. Physiology & Behavior, 74(3), 283–289. https://doi.org/10.1016/S0031-9384(01)00598-4
Klok, M. D., Jakobsdottir, S., & Drent, M. L. (2007). The role of leptin and ghrelin in the regulation of food intake and body weight in humans: a review. Obesity Reviews, 8(1), 21–34. https://doi.org/https://doi.org/10.1111/j.1467-789X.2006.00270.x
NHS UK. (2021, October 15). Alcohol Units. Retrieved from https://www.nhs.uk/live-well/alcohol-advice/calculating-alcohol-units/
Yeomans, M. R., & Gray, R. W. (2002). Opioid peptides and the control of human ingestive behaviour. Neuroscience & Biobehavioral Reviews, 26(6), 713–728. https://doi.org/10.1016/S0149-7634(02)00041-6
Young, E. R., & Jialal, I. (2022). Biochemistry, Ghrelin. In StatPearls. StatPearls Publishing.